Todos Santos Casa y Casitas:
At a latitude that questions 'façade'
Todos Santos
Baja California Sur, Mexico
Architektur
Design
05.2022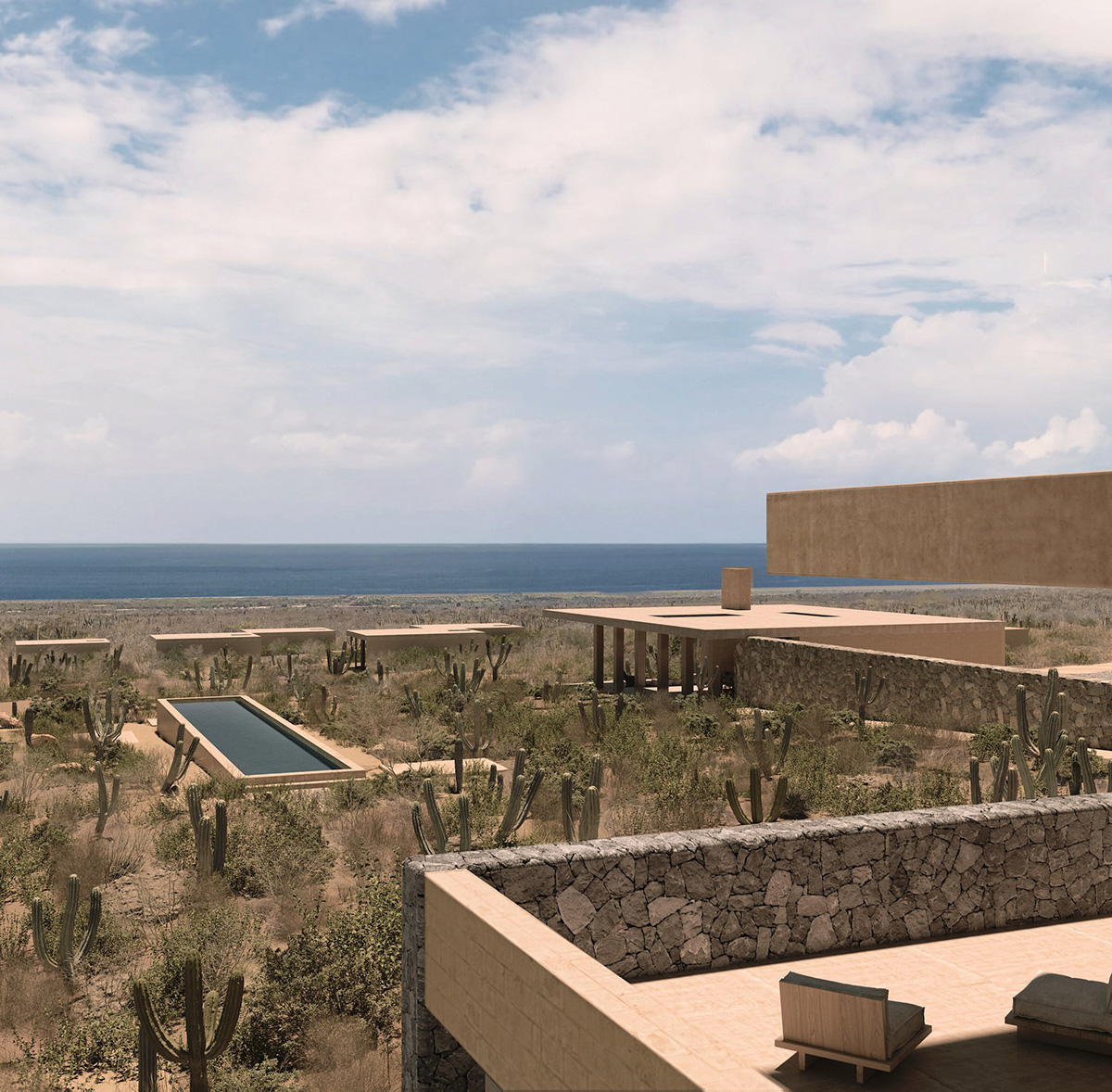 »Kein Glas.«
Als wir Referenzen für Projekte dieses Teils der Welt angeschaut haben, haben wir bei einigen exzellentes Mauerwerk oder Proportionen bemerkt, bei anderen, wie schön ihren Umgang mit intensiver Sonne und Schatten war. Am spannendsten aber war die Möglichkeit, kein Glas benötigen zu können.
Ich dachte an als ich das Stadthaus Geoffrey Bawas in Colombo besuchte, seine Wohnräume und Gartenhöfe verwoben, die so emblematisch seines Tropischen Modernismus ist, und die komplette Abwesenheit einer Wand dazwischen. Diese Lage in Sri Lanka, sowie hier in Baja Kalifornien Sur in Mexiko, belegt einen Breitengrad und ein Klima, die diese engere Verbindung mit den Elementen und der Natur erlaubt.
Also diese offene, atmende Haut ist als Konzept im Design wiederkehrend. Ein Haus am höchsten Punkt für die Eigentümerin eines großen Grundstücks in Todos Santos; Gemeinschaftsräume nur in Säulen und Dach ausgedrückt; und sechs kleine Häuser für kürzere Aufenthalte, die über die Landschaft nach Westen zum Pazifik hin ergießen.
—
Entwarf in Zusammenarbeit mit Studio Andrew Trotter, Renderings von Mehmet Kılınç des Studios KM23
'No glass.'
Thumbing through references for recent works in this part of the world, what struck us in some were exceptional brickwork, in others their sense of proportion, in others still their deft handling of intense sun and shade. The most exciting possibility, however, was that of not necessarily needing any glass.
It brought to mind visiting Geoffrey Bawa's townhouse in Colombo, with its interweaving of living spaces and courtyard gardens so emblematic of his Tropical Modernism, and the complete absence of any wall to separate them. That Sri Lankan setting, as here in Baja California Sur in Mexico, occupies a latitude and accompanying climate that allows this closer connection with the elements, and to nature.
So this open, breathing skin recurred as a concept throughout the design. A casa for the family and keeper of a large piece of land near Todos Santos, at its highest point; a pool and pavilion of communal spaces, expressed in just posts and roof; and six casitas for shorter stays that cascade west down the landscape, toward the Pacific Ocean.
—
Designed in collaboration with Studio Andrew Trotter, renderings by Mehmet Kılınç of Studio KM23