Prada Marfa:
Studying the desert winter light
Valentine, Texas
United States of America
Fotografie
Forschung
12.2015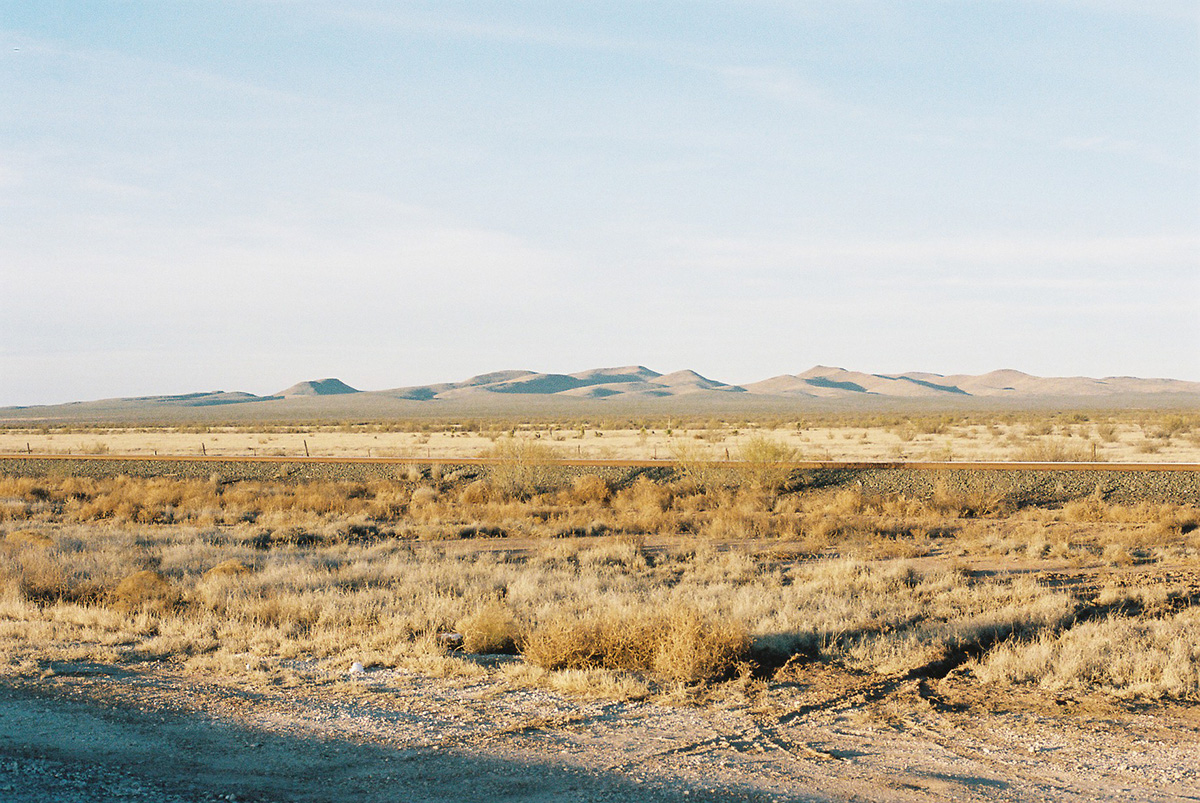 Eine selbstinitiierte fotografierte Studie, die ich während meiner Reise in den USA in 2015 machte. Meine Interesse war in die atmosphärische Qualität der trockenen, hochgelegenen Wüste im Westen Texas.
Prada Marfa, eine Installation der Berliner-Künstlern Elmgreen & Dragset, ist weder Laden, noch für Besucher zugänglich. Es war aber ein Subjekt mit dem ich die Beziehung zwischen der Architektur und dem natürlichen und künstlichen Licht dokumentieren konnte, um die Idee des »Settings« in einem physischen, romantischen und geografischen Sinne auszudrücken.
Kurz vor dem Sonnenuntergang kam ich am 12.Dezember an. Ich schoss das Kunstwerk am 30- und 15 Minuten vor; genau um Sonnenuntergang; dann 15- und 30 Minuten danach, bei Dämmerung. Ich war an meine Wartezeit fixiert, und das Gefühl dieser erfahrende Zeit, die eine dauerhafte, schwere Präsenz war.
Im Gegensatz dazu waren meine Fotos: Momente selbst ein Bruchteil einer Sekunde und so spezifisch für den Breiten- und Längengrad dieses Ortes, für die Ausrichtung dieses Straßenabschnitts, für die Jahreszeit, die einen Sonnenuntergang in diesem schwerelosen Moment ermöglichte.
A self-instigated photographic study made during my travels to the USA in late 2015. My particular interest was in the atmospheric quality of the dry, high-altitude desert of far west Texas.
Prada Marfa, actually on a stretch of road between Marfa and Valentine, TX, is an installation by the Berlin-based artists Elmgreen & Dragset, and neither shop nor accessible by visitors. It provided however a subject against which I could document the relationship between architecture and both natural and artificial light, to express the the idea of 'setting' in a physical, romantic and geographical sense.
Arriving by car an hour before sunset on 12 December, I shot the artwork at 30- and 15 minutes before sunset; at sunset exactly; then at 15- and 30 minutes after sunset, in twilight. I became fixated on the idea of my waiting, and the quality of this experienced time, which amidst all this emptiness felt like an enduring, heavy presence.
In contrast to this were my photographs: moments themselves one fraction of a second, moments that when surveying the resulting images seem even more so specific to the latitude and longitude of this site; to this orientation of this stretch of road; to this time of year, which made a sunset at this weightless moment.